LiveMe Founder Yuki He Asks Young Women to Make 'Unpopular Choices' During Her Speech at the 2018 Women's Entrepreneurship Day (WED) Summit
2018.11.21
LOS ANGELES, Nov. 21, 2018 /PRNewswire/ -- During the 5th annual Women's Entrepreneurship Day (WED) Summit hosted at the United Nations last week, Yuki He, founder and CEO of the no.1 live broadcasting app LiveMe, took the stage to share her inspiring journey from a young girl to businesswoman to entrepreneur. Yuki was joined by several other notable speakers, including Princess Märtha Louise of Norway, Bridgewater Associates' co-CEO Eileen Murray, and fashion designer Anna Sui.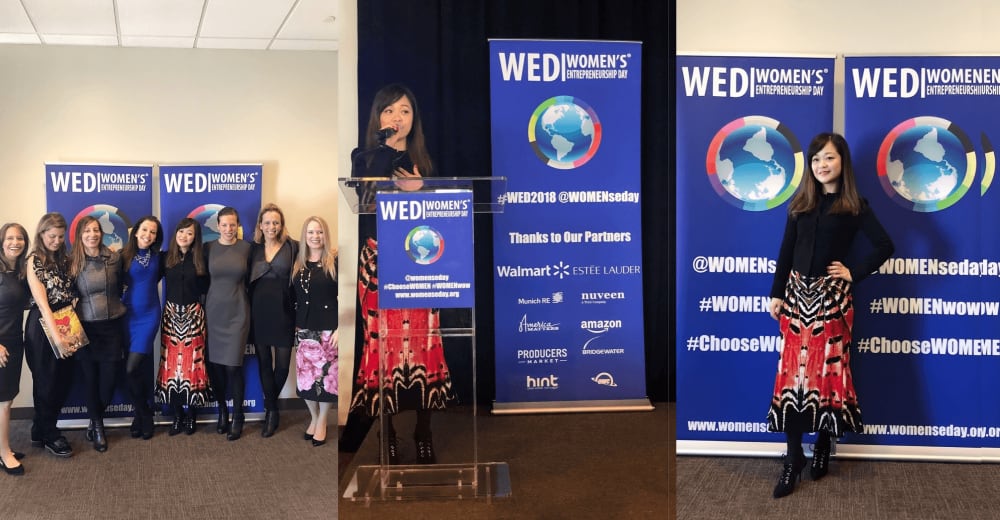 Yuki joined other prominent business leaders in celebrating women's empowerment at the United Nations
The international event convenes annually and empowers women and girls across the globe to help alleviate poverty in their communities. The grassroots mission and message enables women and girls to become active participants in the economy by igniting a network of women leaders, innovators, and entrepreneurs to initiate startups, drive economic expansion, and advance communities around the world.
"I'm excited to have been invited to speak at such an important event. It gave me an opportunity to share my story with young women from all over the world and highlight how LiveMe is empowering women to share their talents and follow their passions," said Yuki He.
As the only woman from China on the panel, Yuki was able to offer the audience a unique perspective, sharing her struggles and successes while crediting the strong female figures in her life who shaped her into the woman she is today. "The women in my family -- my mother and grandmother -- were very strong and independent. They both taught me the importance of believing in yourself and following your own path," added Yuki.
Throughout her speech Yuki touched on the many times she's gone against the norm and made unpopular choices to carve out her own path, including attending a technology university and choosing to work at Tencent, then a small internet company, instead of an established corporation. She later left to help grow a fledgling startup, Cheetah Mobile, into a prominent company that would eventually be listed on the New York Stock Exchange (NYSE), and finally, deciding to venture into entrepreneurship and launch LiveMe.
In addition to the panel on the female entrepreneurial journey, speakers touched on a range of topics including the importance of investing in women, encouraging governments to collaborate with female entrepreneurs, and leveraging your 'brand' or 'status' for social good.
"Historically, women worldwide have been underpaid, undervalued, underrepresented, underfunded and underestimated," said Wendy Diamond, founder of the Women's Entrepreneurship Day Organization. "We are dedicated, determined and driven to change this global imbalance."
Since launching in 2016, LiveMe has frequently topped the app store charts and amassed a staggering 80 million users. The platform has enabled independent creators from all walks of life to share their talents, passions, and stories to inspire others, make additional income, and receive support from the community.
This year, the platform took its proven virtual gifting feature and began using it for good by embedding social causes into the interactive experience. With 60% of the app's users identifying as female, LiveMe frequently runs campaigns for women-focused causes like breast cancer awareness, support for single mothers, and more. The platform has also raised awareness and funds for a number of other important causes, including world hunger, suicide prevention, and anti-bullying efforts.
To show LiveMe's continued support of women and girls, Yuki donated $5,000 to the Women's Day Foundation. The donation went towards sponsoring a table for young disadvantaged girls from organization like Restart Academy -- a WEDO partner organization providing educational services for 13-21 year old students in transitional settings -- at the WED Summit.
About Women's Entrepreneurship Day
Women's Entrepreneurship Day Organization (WEDO) is a non-governmental volunteer organization with a mission is to accelerate and educate the world on the importance of why it's pivotal to empower women in business globally. WED is officially proclaimed a Day on November 19.  WEDO convenes Business Leaders, Change Makers, Government Officials and Civil Society to collaborate and find solutions in critical areas of entrepreneurship eco-systems, education, and policy creation to empower women in business. WED is celebrated at the United Nations and has chapters in 144 countries and 110 universities/colleges internationally. When women are elevated financially, communities, states, and countries prosper, this builds a global blueprint to alleviate and eradicate poverty.